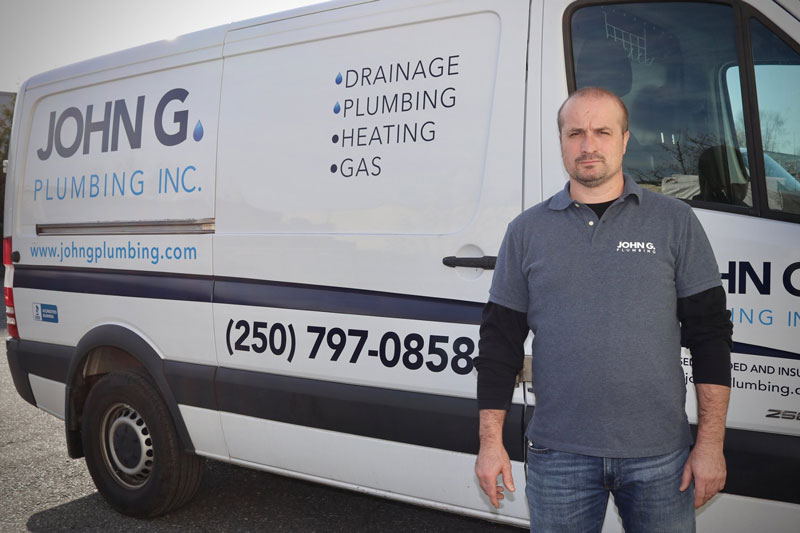 John G Plumbing is your trusted partner for gas & plumbing services.
When you need assistance with installation, repair, or maintenance, we offer a wide range of professional services to keep your plumbing systems in optimal condition. Our dedicated team serves various locations, ensuring that you have access to top-notch plumbing services in your area. 
Plumbing and Gas Fitting Services
At John G Plumbing, we understand the importance of a well-functioning plumbing system in your home or business. We are also licensed gas fitters in your area – our Technical Safety Gas contractor license number is LGA0208853. 
We provide a comprehensive list of services to meet your needs. 
Plumbing Repairs
When plumbing emergencies strike, rely on our expert plumbers at John G Plumbing, your trusted Nanaimo plumber. Our team is ready to tackle any issue, from clogged toilets and leaky taps to clogged drains and burst pipes, offering immediate assistance as your go-to emergency plumber. 
New Plumbing
Installations
If you're upgrading your fixtures, installing a new water heater, or need assistance with appliance installations like dishwashers, our skilled technicians have you covered, providing professional installation services for a seamless plumbing system. 

Drain Cleaning
We offer comprehensive drain cleaning solutions to keep your drains flowing smoothly. This includes general drain cleaning, clog removal, and specialized perimeter drain cleaning to prevent water buildup and potential damage. We also have cameras that go into your pipes so we can see exactly where the problem is, and how to fix it for you. 
Water Heater
Services
For all your hot water tank needs, from repairs to replacements of tankless water heater systems, we have the expertise to ensure you have a reliable source of hot water in your home. We have certified technicians on hand to help with your water tank upgrade. 

Gas Line /
Gas Fitter
Services
Our certified gas fitter technicians can handle gas line repairs, installations, and detect and repair gas leaks. Safety and efficiency are our top priorities when dealing with natural gas or propane gas lines. (Our Technical Safety Gas contractor license number is LGA0208853.) 
What areas do we service on Vancouver Island?
We understand that plumbing issues can arise anywhere, which is why we've extended our services to multiple areas. We offer high-quality plumbing services in Nanaimo and Parksville regions. 
We are proud to assist clients in these towns and communities: 
Choose an
expert plumber
, Choose John G Plumbing
John G Plumbing is committed to delivering high-quality plumbing services to our customers. We ensure that our clients on Vancouver Island have access to professional plumbing solutions and gas fitting services. 
We invite you to explore our website for more detailed information on our services and to find the contact details you need to get started. Your plumbing needs are our top priority, and we're here to provide the expertise and reliability you deserve. Contact us today and experience the John G Plumbing difference!
Exceptional Service You Can Trust
When it comes to your plumbing renovation, you deserve nothing but the best. Our team is dedicated to providing exceptional service throughout Nanaimo, Coombs, Parksville, and beyond. With our expertise, your dream plumbing renovation is closer than ever.
When you hire the professionals at John G Plumbing, you will feel good knowing your plumbing is in good hands.
Contact John G Plumbing today to start your journey toward a more efficient and reliable plumbing system. Your free estimate is just a message away!